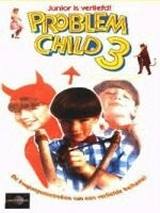 Problem Child 3: Junior in Love
is a 1995 made-for-TV sequel to
Problem Child
, and is the third and final entry in the Problem Child film series. The film aired on May 13, 1995 on NBC. Gilbert Gottfried and Jack Warden are the only cast members to appear in all three films.
Junior is now a preteen and is forced by Ben to go to a school dance and he falls in love with a girl named Tiffany. As things take an unexpected turn when three other boys, Duke, Corky, and Blade fall for her, but Junior must get rid of them. Meanwhile, Mr. Peabody becomes a dentist and gives Junior braces.
Unfortunately, when Junior finally wins Tiffany over, she turns out to be a rich snob, and Junior plays a trick on her at a party. Afterward, he meets a nicer girl who's also wearing braces.
Justin Chapman as Junior Healy
William Katt as Ben Healy
Sherman Howard as Scoutmaster Philm
Carolyn Lowery as Sarah Gray
Blake Mclver Ewing as Corky McCullen
Brock Pierce as Duke
Jake Richardson as Blade
Jack Warden as Big Ben Healy
Gilbert Gottfried as Mr. Peabody
Jennifer Ogletree as Tiffany
This is the first film not to have Michael Oliver and John Ritter star as Junior and Ben.
This is the first Problem Child film, not to have a theatrical release.
Trixie, Annie, and LaWanda do not reprise their roles from the second film.
You will notice that Junior's house, and Mortville Elementary School are not the same, compared to Problem Child 2.