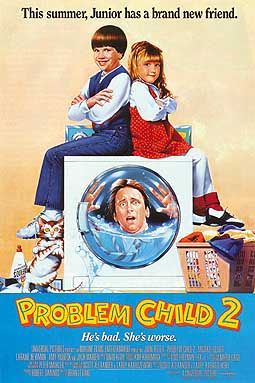 Problem Child 2
is the 1991 comedy film sequel to
Problem Child
. Unlike the previous film, this film is rated PG-13. The film stars Michael Oliver, John Ritter, Jack Warden, Amy Yasbeck, and Ivyann Schwan.
Ben Healy and his son, Junior move from Cold River to Mortville to start a new life after Ben's divorce.
Mr. Peabody is the new school principal who screams when Junior walks into his office, and sends him to the sixth grade, calling him a genius. Junior also meets Trixie Young, a girl who's worse than him, and her mother, Annie, the school nurse. Ben meets Annie after suffering a head injury, but when he asks her out for a date, she tells him she can't date anyone because of a problem at home.
Ben wants to remarry and give Junior a new mother, but Junior is against it, and ruins all of his father's dates. Big Ben Healy also moves in, despite hating his son and grandson.
Charlene Tilton as Debbie Claukinski
Martha Quinn as Emily
Zach Grenier as Voytek
Laraine Newman as LaWanda Dumore
Amy Yasbeck as Annie Young
Gilbert Gottfried as Mr. Peabody
James Tolkan as Mr. Thorn
Kristina Simonds as Rhoda
Aaron Vaughn as Rhoda's Boyfriend
Michael Wilkop as 6th Grader Student